Indiana Culinary Trails
LaSalle Grill
Hours of Operation
Monday - Saturday 5pm - Close
General Dining
A modern American bistro, LaSalle Grill features a blend of chef-inspired original dishes and ethnic foods that represent the spirit and people of America. Our menu showcases classic favorites, new dishes highlighting our chefs unique talents, and an award-winning wine list. We use fresh, high quality and hand-chosen ingredients that are seasonal, locally sourced, and sustainable. We present each dish in a way that tempts your senses and satisfies your palate because technique is important, but your experience the comfort and warmth that comes from artisanal food and drink made just for you is most important. Designated AAA 4 Diamond Award for 20 consecutive years.
Credit Cards:
Meals Served: Seafood, Steak and French
Dining Classification: Fine Dining
Cost: $18 and up
Menu Style: Seafood, French and Steak
Alcohol Served: Yes
Separate Bar Area: Yes
Largest Group Served: 80
Meeting Room Capacity: 30
Discounts: N/A
Local / Organic: Uses many local farm products when in-season
Diet Specific: Vegan and Vegetarian Dishes Available
Exterior
Parking: On Street parking available as well as free parking garage. Event parking is $5.00
Visible Signage: From Road / Sign on Building / From Highway Handicapped Accessible: Yes
Interior
Seating: Tables, Booth and Banquet Room
Hostess on Duty: Yes
Gift Shop / Products for Sale: No
Smoking: No Smoking
Bathrooms: Several
Recommended Dishes
Steaks, Seafood and In-Season Game such as Red Deer.
BEEF TENDERLOIN CARPACCIO - Pickled Red Onions, Micro Greens ... Soft Boiled Egg
Three main seafood dishes always on the menu along with their Raw Bar and Seafood Starters.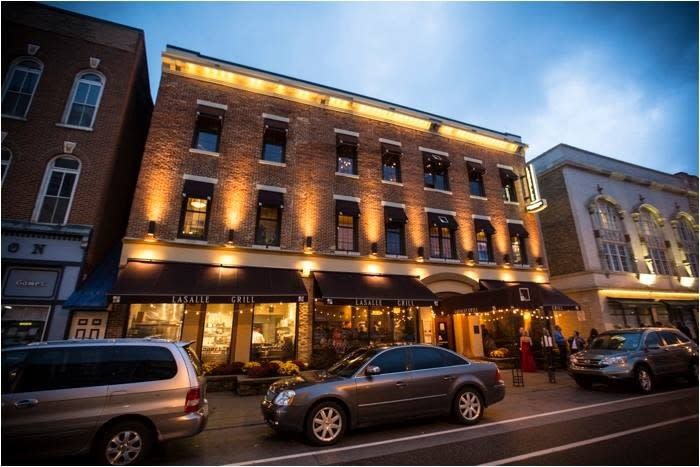 Restaurant Information:
Phone: 574-288-1115
Address:
115 West Colfax
South Bend, IN 46601
---
The Restaurant is part of the following trails:
---