Indiana Culinary Trails
The Bluebird Restaurant
The Bluebird was originally opened by Zella Irwin in the late 1930s, just down the street from our present location. She moved the location to what is now a coffee shop in the mid-1940s. Our little restaurant has changed hands a number of times in its more than 80 years of operation. The Tracy family took charge in May of 1972, and we're still proud to be a part of Morristown family traditions. Paired with the Longbranch saloon, located directly behind the restaurant, our facility is a great place to come to chill out with family or friends. In the bar, restaurant food is available during regular hours as well as a range of tasty bar food options. You'll also enjoy five TVs, a pool table, free Wi-FI, and a smoke-free environment, though smokers are welcome to indulge on our outdoor patio.
Hours of Operation
Monday - Saturday
6 AM - 9PM
Sunday
7AM - 3PM
General Dining
Credit Cards: All Major Credit Cards Accepted
Meals Served: Breakfast, Lunch, and Dinner
Dining Classification: Family
Cost: $15 and Under
Menu Style: American
Alcohol Served: Yes Beer, Wine, Liquor
Separate Bar Area: Yes
Largest Group Served: 200+
Meeting Room Capacity: 72 People
Discounts: N/A
Entertainment: N/A
Local / Organic: Lard is from Centerville and Chicken from local farm in Greensburg.
Diet Specific: N/A
Exterior
Parking: Large Parking Lot across the Street
Handicapped Accessible: YES
Interior
Seating: Tables and Bar
Hostess on Duty: YES
Gift Shop / Products for Sale: NO
Recommended Dishes
A family style fine dining restaurant, known for its famous pan fried chicken, pork tenderloin sandwich, delicious filet mignon, and fresh seafood. Homemade pies are made and served daily: Sugar Cream, Chocolate Chip, Apple, Cherry, Cream, Rhubarb, Gooseberry and more!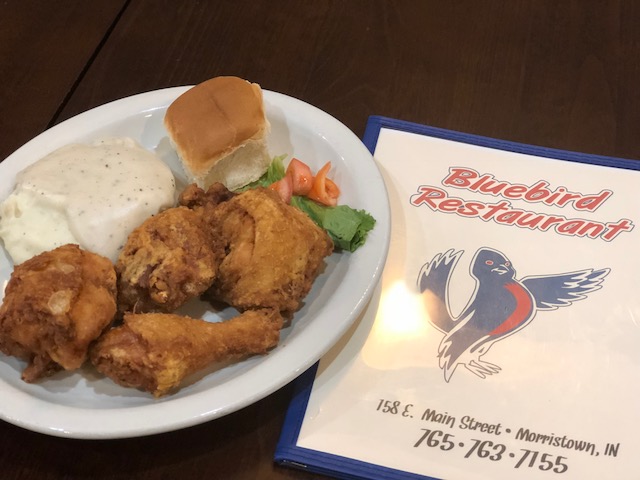 Restaurant Information:
Phone: (765) 740-4414
Address:
158 East Main Street
Morristown, IN 46161
---
The Restaurant is part of the following trails:
---