Indiana Culinary Trails
Stream Cliff Farm Winery
Hours of Operation
Winery days and hours open for tastings and sales are Wed-Sat 11:00-5:00 and Sun 12:00-5:00 from March 29-October 29. Beginning November 3 through Dec. 17 the Winery will be open each Fri & Sat 11:00-4:00 and Sundays 12:00-4:00. The last day for the 2023 season is Sunday December 17th. Winter hours begin Jan 6 through March 2024, the Winery is open Sat 12:00-4:00 for wine sales and tastings only.

General Dining
Credit Cards: Visa, Mastercard, Discover
Meals Served: The Twigs and Sprigs Restaurant available for dining
Dining Classification: Winery
Cost: $$
Alcohol Served: Winery
Separate Bar Area: Separate Winery
Largest Group Served: The Winery offers special events for groups of fifteen or more such as cheese or chocolate pairings with our wines and holiday dinners.
Entertainment: Check the website or Facebook page for more information
Exterior

Parking: Large Parking Lot
Interior
Seating: Available in winery
Gift Shop / Products for Sale: Winery and gift shop
Recommended Dishes

The Winery is preparing for another great year. We now have a nice Pinot Grigio, Golden Gallop, wine which is fairly dry. We feel this is one of the best releases They have created and look forward to having you give it a try. Their heartfelt desire is that every time a visitor comes to our farm they have a delightful experience.
Many people enjoy our handcrafted wines. New this year is a dry red, Marquette, sometimes referred to as the grandson of Pinot Noir. Stream Cliff Farm Winery's selection of wine is broad, from the dry reds such as Iron Hand (Cabernet Sauvignon), Rawhide (Pinot Noir), Old Bo (Chambourcin style) and Running Horse Red (Merlot). Dry white wines are My Dolly (Chardonnay), Spotted Horse (Riesling) and Horsefeathers (Seyval Blanc style) For our friends with a sweeter palate there are many fruit wines from which to select. Some of these include our wines made by using blackberry, apple, peach, cranberry, black currant, and raspberry. Most of the time, we have 18-20 different wines from which to choose. The Christmas wine, Santa's Secret Recipe, (available Oct-Dec) has an amusing label and makes a perfect gift.

The Winery dining room has been enjoyed throughout the year for groups such as bus tours, clubs, baby/bridal showers and business meetings. The room has a barrel shaped ceiling and the floor has the look of old brick. This charming room will seat about forty people and has such a warm and welcoming atmosphere, just right for an old building that was once a blacksmith shop.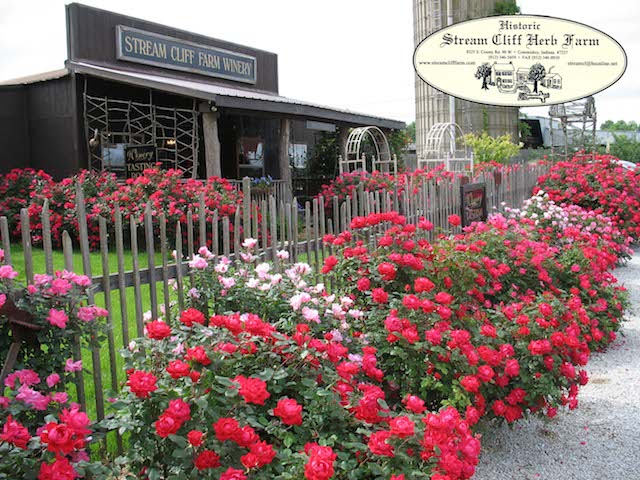 Restaurant Information:
Phone: 812-346-5859
Address:
8225 S County Rd 90 W
Commiskey, IN 47227
---
The Restaurant is part of the following trails:
---