Indiana Culinary Trails
Stop 1: Here Fishy Fishy Trail™ Trail
The Kopper Kettle Inn
The Kopper Kettle Inn Restaurant has been serving Indiana's finest for over 91 years! They are a family style dining restaurant, known for our famous pan fried chicken,delicious filet mignon and fresh seafood. In addition, they offer catering and carry out!
http://www.kopperkettle.com/menu.html
Hours of Operation
Hours
Tuesday-Saturday
11:00 a.m.- 8:00 p.m.
Sunday
11:30 a.m.- 6:00 p.m.
General Dining
Credit Cards: All Major Credit Cards Accepted
Meals Served: Lunch and Dinner
Dining Classification: Family Fine Dining
Cost: $$
Menu Style: American
Alcohol Served: NO
Separate Bar Area: NO
Largest Group Served: 100+
Meeting Room Capacity: 40+
Discounts: Weekly Specials Available
Entertainment: NO
Local / Organic: NO
Diet Specific: N/A
Exterior
Parking: Large Parking Lot Availabe to the West near Gas Stations
Interior
Seating: 100+ Hostess on Duty: YES Gift Shop / Products for Sale: NO
Recommended Dishes
WEEKLY SPECIALS 11.95 INCLUDES THE DESSERT OF THE DAY
Tuesday: Swiss Steak - Served with our special Gravy, Tossed Salad, Creamy Whipped Potatoes, Buttered Peas, and Dinner Roll
Wednesday: Chicken Plate (3 Pieces) Served with Tossed Salad, Creamy Whipped Potatoes, County Seasoned Green Beans, and Dinner Roll
Thursday: Chicken and Noodles - Served with Creamy Whipped Potatoes, Old Fashioned Dressing or Country Seasoned Green Beans, Cole Slaw & Hot Rolls
Friday: Farm Raised Catfish, Poached Haddock, or Hand-Battered Cod Served with Tossed Salad, Creamy Whipped Potatoes, County Seasoned Green Beans, and Dinner Roll
Saturday: Our Special Chicken Salad - Topped with toasted Almonds Served with Fresh Fruit, Potato Chips, a Fresh Muffin and a glass of Champagne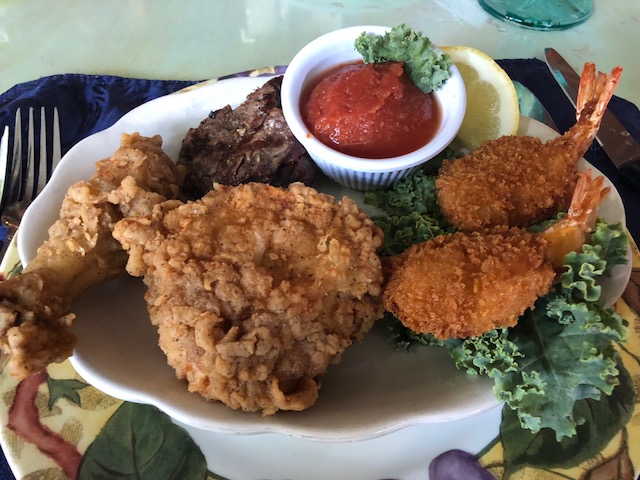 Restaurant Information:
Phone: 765-763-6767
Address:
135 W Main St.
Morristown, IN 46161
---
The Restaurant is part of the following trails:
---