Indiana Culinary Trails
Stop 22: Sweet Temptations Trail™ Trail
Hunter's Honey Farm
Hours of Operation
Business Hours
Monday-Saturday: 9:00am-6:00pm
Closed Thanksgiving Day Christmas Day New Year's Day
General Dining
Credit Cards: Yes Meals Served: Honey Farm
Largest Group Served: Group Tours Available https://www.huntershoneyfarm.com/tours/
Entertainment: Seasonal Events Check website
Local / Organic: All locally grown honey
Diabetic and Sugar Free Available
Exterior
Parking: Bus and Car Parking Available
Visible Signage: Directional signs along route Handicapped Accessible:
Interior
Gift Shop / Products for Sale: Locally grown honey products available for purchase
Recommended Dishes
At Hunter's Honey Farm, they've been making life sweeter for over one hundred years. We keep our honey as pure and natural as possible. We never flash heat or pressure filter our honey, insuring that our customers get the finest and most flavorful honey that nature has to offer.
Even though honey is our main product, they also produce beeswax, bee pollen, and propolis. They use these to make beeswax candles, handcrafted honey soap, beeswax lip balm, honey teriyaki sauce, honey barbecue sauce, honey mustard sauce, honey vinaigrette, honey hot wing sauce, honey chocolate sauce, honey caramel corn, honey dried apple slices, spun honey, honey roasted pecans, honey mustard pretzels, honey baklava and many other honey treats. They also have over 30 different flavors of honey stix and five varieties of honey candy.
On our farm, we also manage 65 acres of hardwood timber, which also contains over 4,000 Christmas trees.
They sell honey wholesale as well as retail. Hunter's Honey Farm invite you to visit our gift shop which is open daily and is filled with many products that we produce at our farm. Tours of the farm, which include honey tasting, beekeeping discussion, candle making demonstration, honey extracting (seasonal), and honey bottling can be scheduled upon request. For more information call or email, and don't forget to sign up for a honey farm tour.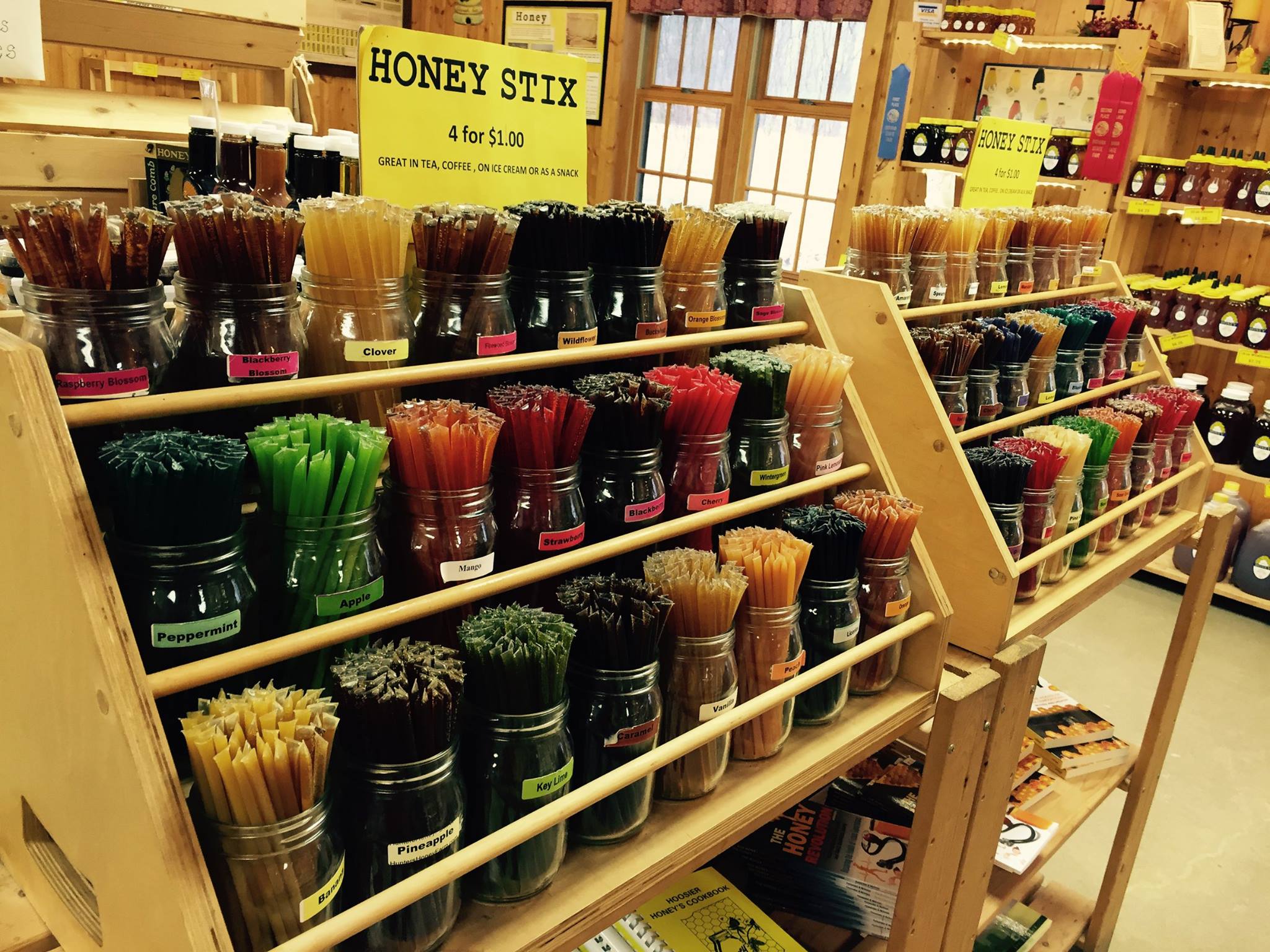 Restaurant Information:
Phone: 765-537-9430
Address:
6501 W. Honey Lane
Martinsville, IN 46151
---
The Restaurant is part of the following trails:
---