Indiana Culinary Trails
Stop 22: Sweet Temptations Trail™ Trail
French Licks Ice Cream and Coffee Bar
Hours of Operation
Hours
Mon - Thursday 11:00 am - 8:00 pm
Fri 11:00 am - 9:00 pm
Sat 10:00 am - 9:00 pm
Sun 11:00 am - 6:00 pm
General Dining
Credit Cards: All Major Credit Cards Accepted
Meals Served: Ice Cream and Coffee Beverages
Dining Classification: Casual and Family
Cost:$
Menu Style: Ice Cream Parlor and Coffee House
Alcohol Served: NO
Largest Group Served: N/A Meeting Room Capacity: N/A Discounts: Entertainment: Local / Organic: Diet Specific:
Exterior
Parking: Large Parking Lot / Handle Buses Visible Signage: From Road / Sign on Building / From Highway Handicapped Accessible:
Recommended Dishes
Ice Cream
Old fashion ice cream with an artistic flare. Hand Crafted Gourmet Ice cream made with no chemicals and preservatives giving you that homemade taste. From the all time favorites, chocolate, vanilla, strawberry, butter pecan, to creative flavors... cookie monsters, carmel latte, they have your favorite flavors ready to serve.
Coffee - Coffee drinks made with micro-batch roasted beans.
French Licks coffee is brewed from El Salvador Finca beans of single-origin, dark roast, bold, heavy mouthfeel with nutty and chocolate notes.
Hand-crafted Sodas
Fun flavored sodas, locally made pretzels, gourmet popcorn, and so much more.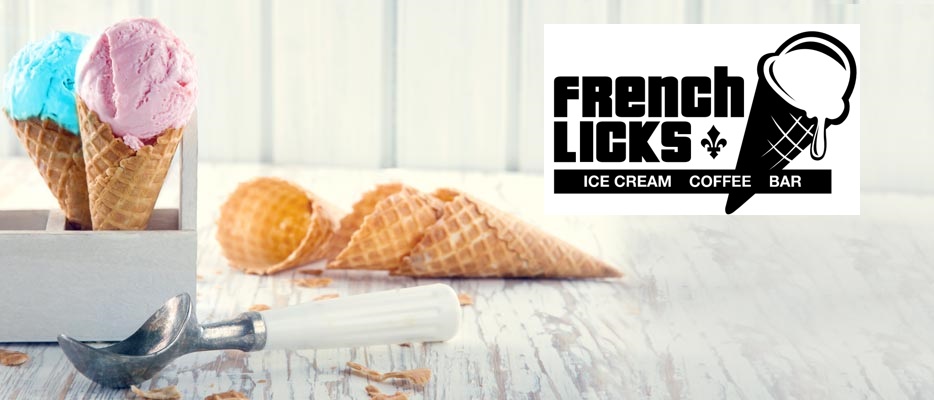 Restaurant Information:
Phone: (812) 936-3131
Address:
469 S Maple St
French Lick, IN 47432
---
The Restaurant is part of the following trails:
---