Indiana Culinary Trails
Stop 22: Sweet Temptations Trail™ Trail
German Cafe
Hours of Operation
Our hours:
Tuesday 4:00pm - 8:30pm
Wednesday 11:00am - 9:00pm
Thursday 11:00am - 9:00pm
Friday 11:00am - 9:30pm
Saturday 11:00am - 9:30pm
Sunday 11:30am - 3:30pm
General Dining
Credit Cards: All Major Credit Cards Accepted
Meals Served: Lunch and Dinner
Dining Classification: Family
Cost: $$
Menu Style: German Beers: 9 total, with 5 on tap. German Wines: 4
Alcohol Served: Yes - German Beer Selection Available
Separate Bar Area: No
Largest Group Served: Can accommodate large groups. Can house 2 groups at one time.
Diet Specific: Gluten Free
Exterior
Parking: Street Parking on Maple Street. Large parking lot between Maple Street and Highway 56 (town parking lot, very ample and will accommodate motorcoach parking)
Large Parking Lot / Handle Buses Visible Signage: From Road / Sign on Building / From Highway Handicapped Accessible:
Interior
Seating: Tables and booths available
Hostess on Duty: Yes
Gift Shop / Products for Sale:
Recommended Dishes
Try the Gross Platte for your family meal! Served at your table with food adjusted by the number of people. Platter includes: Bratwurst, Knackwurst, Original Polish Sausage, Schnitizel, Hungarian Goulasch, Spatzel, German Friday Potatoes, German Potato Salad, Red Cabbage, Sauerkraut and Jager Gravy.
Try the Candadian Pork Tenderloin, it has less than half the fat of U.S. Pork. Handcut and hand pounded and made at an Indiana butcher shop.
The Schnitzel is a favorite of patrons. Cut and hand pounded right in the restaurant. Pan fried and seasoned with a secret recipe only the owner knows!!
Desserts are all made in-house and the Apple Streusel is a house favorite.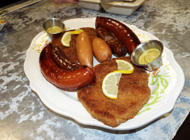 Restaurant Information:
Phone:
Address:
452 South Maple Street
French Lick , IN 47432
---
The Restaurant is part of the following trails:
---