Indiana Culinary Trails
Stop 22: Sweet Temptations Trail™ Trail
Concannon's
In 1978, Michael T. Concannon purchased the business from his parents. Concannon's is truly a rare family business, with the third generation now heavily involved. Marc Concannon is a trained baker and oversees all candy, popcorn and coffee production.
?They have diversified the bakery to include our gourmet popcorns, our house-roasted coffees and our own line of fine chocolates. This shop showcases a full line of bakery products and is also home to their deli and coffee bar.
Hours of Operation
Monday - Thursday 6AM–7PM
Friday - Saturday 6AM–8PM
Sunday 7AM–6PM
General Dining
Credit Cards: YES
Meals Served: Breakfast and Lunch
Dining Classification: Bakery and Deli
Cost:$
Alcohol Served: NO
Separate Bar Area: n/a
Largest Group Served: n/a
Meeting Room Capacity: n/a
Discounts: Daily Specials
Entertainment: NO
Local / Organic: n/a
Diet Specific: N/A
Exterior
Parking: Parking Lot on side of building
Handicapped Accessible:
Interior
Seating: 15 - 30
Hostess on Duty: NO
Gift Shop / Products for Sale: Yes - Popcorn, Candy, Bakery Specialty Items
Recommended Dishes
Known for their donuts, coffee cakes, pies, and other specialty bakery items. Be sure to grab some flavored popcorn too!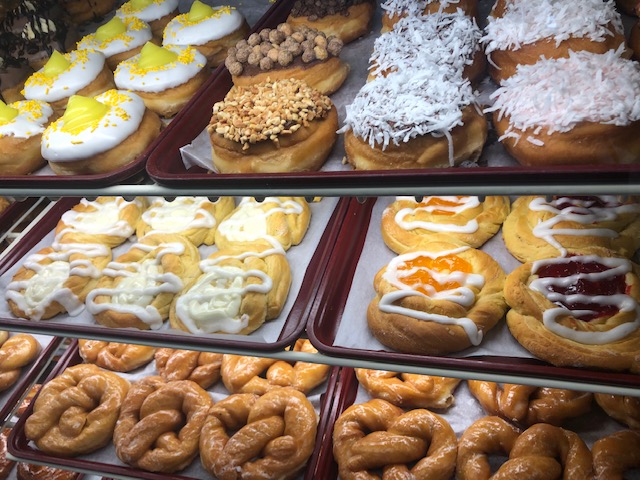 Restaurant Information:
Phone: (765) 288-9820
Address:
4801 W Baker Lane
Muncie, IN 47304
---
The Restaurant is part of the following trails:
---