Indiana Culinary Trails
Stop 22: Sweet Temptations Trail™ Trail
1000 Degree Wood-Fired Pizza
Tracy and Darrell moved the oven into Darrell's lot at the corner of State Road 36 and Walnut Street in Mt. Summit, Indiana. Turning it into a small 5-seat carryout place to sell their pizzas. They took a few pictures and sent them to Scott asking him when he was coming. A 27 hour bus ride from Florida to Indiana brought a longtime dream to reality and on November 9th 2016, 1000º Wood Fired Pizza was born.
That small 5-seater with a handful pizzas, is now a full menu, a dining room and a patio for the summer months. Amazing ingredients, excellent food coupled with fantastic customer service have provided the small town of Mt. Summit with a wonderful dining experience. This small pizza place is changing the landscape of the town and the community. That's something the Draper family is most proud of. And people are coming from miles around to be a part of it.
Hours of Operation
Monday 11AM - 8PM
Tuesday - Thursday 11AM - 9PM
Friday - Saturday 11AM - 10PM
Sunday NOON - 8PM
General Dining
Credit Cards: YES
Meals Served: LUNCH AND DINNER
Dining Classification: Casual/Family
Cost: $$
Menu Style: Pizza and BBQ
Alcohol Served: No Alcohol Served
Local / Organic: Uses local products when available Diet Specific: Cauliflower Crust, Chicken Crust,
Exterior
Parking: Parking Lot with Sign Visible from Road
Interior
Seating: First Come, First Serve
Hostess on Duty: Sometimes
Gift Shop/Products for Sale: Desserts, Hot Sauce, T-shirts, Cookies
Recommended Dishes
Wood-fired Pizza, Smoked BBQ Ribs and Brisket Sandwiches.
THE CARNIVORE - Marinara base pepperoni, sausage, bacon, ham, ground beef, chicken, steak, brisket and pulled pork. Are you counting, 'cuz that's 9 meats...Meat lovers rejoice! Drizzled with BBQ sauce and garnished with french fried onions.
HOG LOVERS PIZZA - Hearty bacon, ham, Italian sausage and smoked pulled pork with a bbq sauce base. It's hog-heaven bbq in a pizza!
TACO - Yeah you read it right. The delicious taste of tacos on a pizza. Seasoned ground beef, onion, sour cream, taco sauce, lettuce and tomato covered with nacho chips.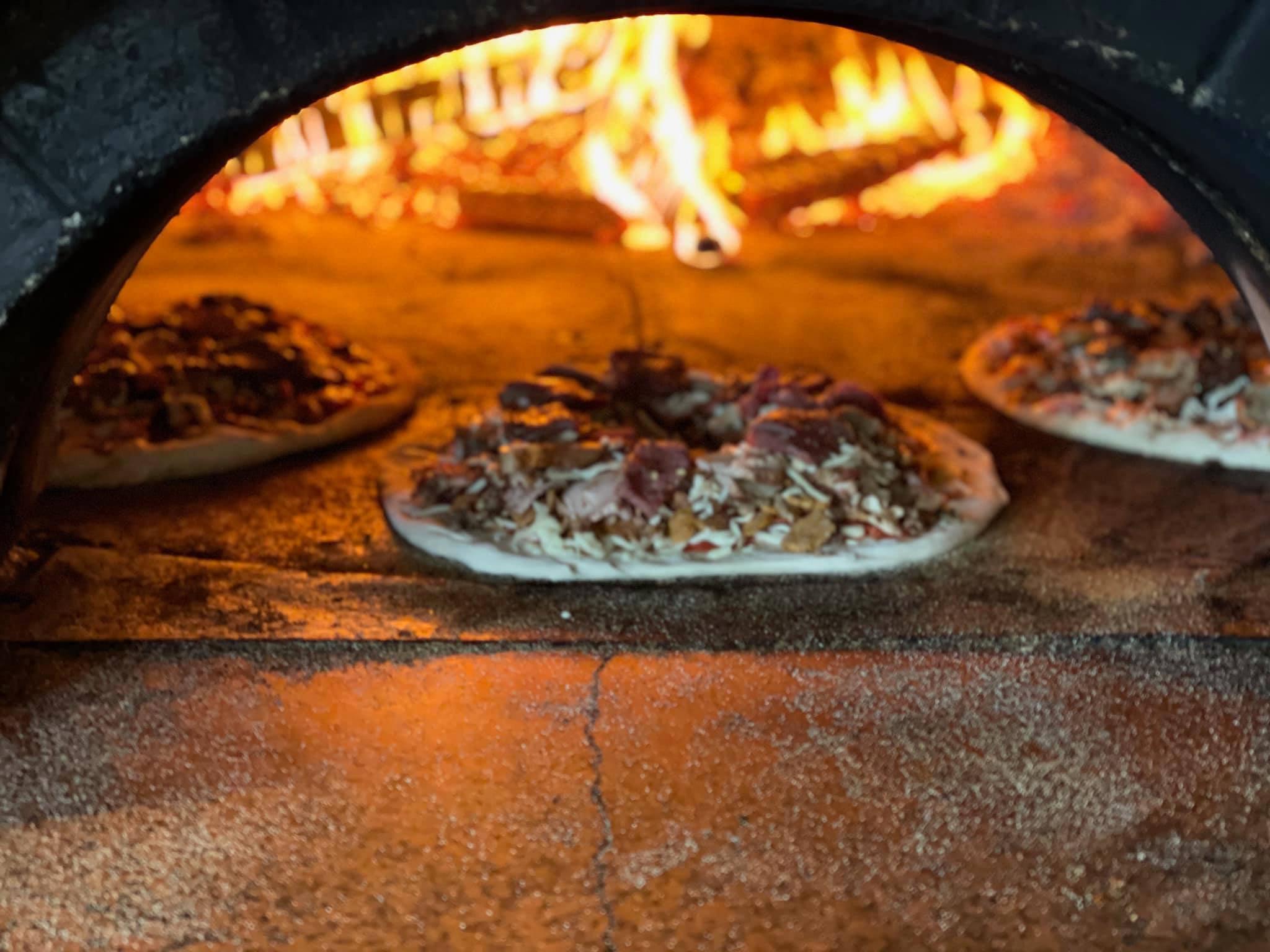 Restaurant Information:
Phone: (765) 831-1079
Address:
101 N. Walnut
Mount Summit, IN 47361
---
The Restaurant is part of the following trails:
---