Indiana Culinary Trails
Stop 9: Sweet Temptations Trail™ Trail
GK Baked Goods
Located in the heart of Downtown Fort Wayne, at GK Baked Goods, we are devoted to bringing Northeast Indiana high-quality, hand-crafted artisan breads and pastries to our community. We use the highest quality of raw ingredients and work closely with local famers to bring our delicious breads and pastries to life. We use traditional, from scratch methods with a heavy attention to detail to each of our products. We are proud to be a part of a growing and diverse hospitality community and excited to continue to grow our brand.



Hours of Operation
Monday - Saturday 7AM - 7PM
Sunday 7AM - 4PM
General Dining
Credit Cards: All Major Credit Cards Accepted
Meals Served: Brunch at Junk Ditch Brewing Company
Dining Classification: Brunch
Cost: $$$
Menu Style: Farm to Table
Alcohol Served: Craft Beer from Junk Ditch Brewing Company, Hand-crafted Spirits, Wine
Separate Bar Area: Yes
Largest Group Served: Meeting Room Capacity: Discounts: Entertainment: Local / Organic: Diet Specific:
Exterior
Parking: Large Parking Lot / Handle Buses Visible Signage: From Road / Sign on Building / From Highway Handicapped Accessible:
Interior
GK Cafe & Provisions located in the heart of Downtown Fort Wayne.
Recommended Dishes
Almond Croissant
Cinnamon Roll
Ham & Cheese Croissant
Macarons
Chocolate Croissant
Pretzels
Ice Cream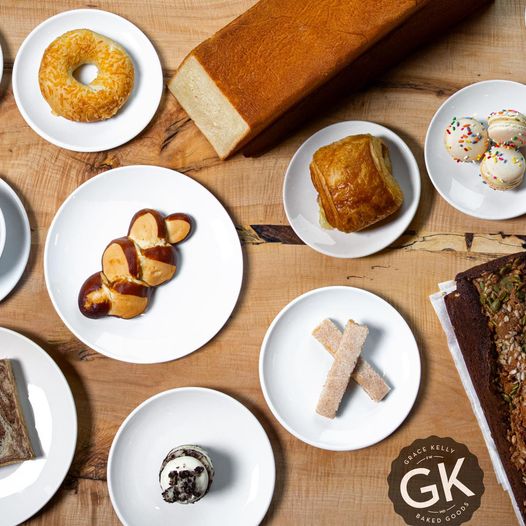 Restaurant Information:
Phone:
Address:
202 West Berry St. Suite 120
Fort Wayne , IN 46808
---
The Restaurant is part of the following trails:
---