Indiana Culinary Trails
Stop 11: Sweet Temptations Trail™ Trail
Ullery's Homemade Ice Cream
Hours of Operation
Tuesday - Thursday: 3pm - 8pm
Friday & Saturday: 12pm - 9pm
Sun & Mon Closed

General Dining
Credit Cards: All Major Credit Cards Accepted
Meals Served: Ice Cream
Dining Classification: Ice Cream Shop
Cost: $$
Diet Specific: Dairy free, Gluten free, and Vegan options are available.

Exterior
Parking: Parking on Street
Visible Signage: Sign on Building
Interior
Seating: Inside seating available
Recommended Dishes
Ullery's Homemade Ice Cream has been making real hand-crafted homemade ice cream since 1993. Offering Shakes, Floats, Hot Fudge Sundaes, Bowls, & Handmade Cones! All fresh and homemade! We still make our Ice Cream the old fashioned way, we still use only the finest quality ingredients. Spreading joy one scoop at a time!

Original: Vanilla, Chocolate, Strawberry, Butter Pecan, Peanut Butter, Red Raspberry, Cookie Dough, Cookies & Cream
Vegan: Vegan Strawberry, Vegan Vanilla Bean, Vegan Chocolate Almond
Seasonal: Pumpkin Spice, Apple Pie Crumble, Persimmon, Peppermint Stick, Gingerbread, Eggnog, White Chocolate Meltdown, Fire N Ice Coco, Blue Blizzard, Black Cherry, White Chocolate Meltdown, Blueberry, Black Berry, Cinfully Red, Gingerbread Man, Honey B, Maple Nut, Mint Chocolate Chip, Orange Pineapple, Peach, Pina Colada, Peach Cheesecake
Sherbets: Lime Sherbet, Orange Sherbet, Raspberry Sherbet, Rainbow Sherbet
Sorbets: Lemon Sorbet, Mango Peach Sorbet, Strawberry Sorbet, Cranberry Sauce Sorbet
Signature flavors: Ivy Techs Mint 2 Be, Java Nut Quake, Red Wolf Cookie Dough, Bethany Blast, Heathy Add-RICK-tion, Epic Schoklade, Blue Angel
Specialty flavors: Golden Jubilee, Banilla, Sea Salt Caramel, Loco Coco Java, Pistachio, Rocky Road, Vanilla Bean, Chocolate Dream, Peanut Butter Dream, Southern Butter Pecan, Black Raspberry Cheesecake, Cranberry Orange, Cherry Cheesecake, Blueberry Cheesecake, Pumpkin Roll Cheesecake, Snickerdoodle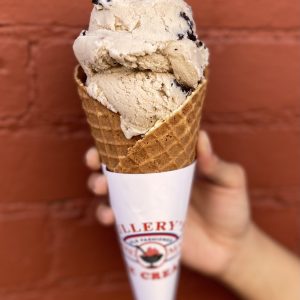 Restaurant Information:
Phone: (765) 993-1687
Address:
168 Fort Wayne Ave.
Richmond, IN 47374
---
The Restaurant is part of the following trails:
---