Indiana Culinary Trails
Stop 12: Sweet Temptations Trail™ Trail
Popcorn Cafe


Gourmet Popcorn, Fresh made in store Fudge, Bubble Tea and Candy. Retail sales in Kokomo, Indiana.

At the Popcorn Café use the highest quality of ingredients. It starts with great oil to pop the popcorn in daily. The Popcorn is a high grade of mushroom popcorn, which bursts into a large kernel when combined with the coconut oil. Real cheese and flavorful spices are used in our cooking as well. All ingredients are chosen wisely the best experience you can have as a consumer. Whether you choose butter popcorn or our signature popcorn, Kokomo Krunch, you won't be disappointed in the flavor or quality of our products.
The owner, Grace Jones, wanted to bring a fun store to Kokomo where there would be something enjoyable for all people. And popcorn is just plain fun! Whether it is a snack in the car or a wedding buffet, the Popcorn Café will meet your needs. Birthday parties, and showers all seem a bit more festive with our colourful and scrumptious popcorn.
Not Just a Popcorn Store!

Although the Popcorn Café is known for delicious Popcorn, the store hosts a wide variety of fun and bulk candy. Homemade fudge, pretzels and delicious chocolates all for your choosing are available when you walk in the door at the Cafe.
If you need something to wash down all those snacks, then look to our wide variety of bubble teas! Including fruit boba and chewy tapioca.



Hours of Operation

Hours:
Monday - Thursday 11:00 a.m. - 5 p.m.
Friday & Saturday: 10:00 a.m. - 6:00 p.m.
(Hours may vary during the Holidays)
General Dining
Credit Cards: All Major Credit Cards Accepted
Exterior
Parking: Large Parking Lot


Recommended Dishes
Bring more fun into your life with delicious popcorn from the Popcorn Café. We have over 50 flavors in these categories:
-White and Cheddar Cheeses
-Caramel Corn (with or without nuts)
-Candied Flavours
-Chocolate Covered Popcorn
https://popcorncafeshop.com/shop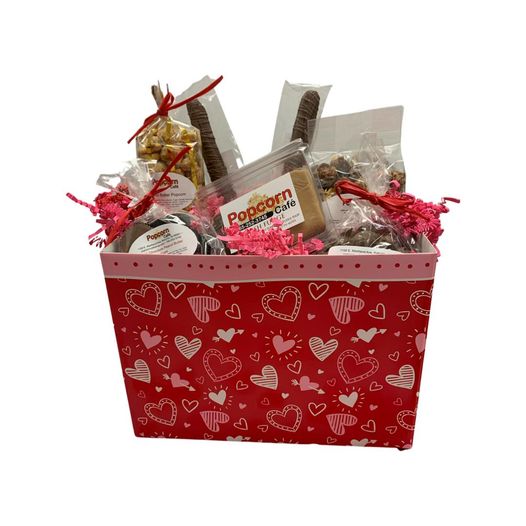 Restaurant Information:
Phone: 765-252-3745
Address:
1108 E. Markland Ave.
Kokomo, IN 46901
---
The Restaurant is part of the following trails:
---