Indiana Culinary Trails
Stop 23: Za' Pizza Trail™ Trail
Belgian Horse Winery
Hours of Operation
We are 21+ only inside the winery.
Incredible setting with exceptional wine. The perfect venue for events or a glass of wine with friends. Dating back to 1836, Belgian Horse Winery honors a 6-generation family tradition of sharing time with family and loving good wine. The Tuscany-inspired tasting room offers the ideal ambience for wine tastings or perusing our one-of-a-kind collection of glassware, wine accessories, and other artisan treasures. The Walnut Grove, Patio, and Vineyard are ideal for any outdoor event (perfect for weddings!) Grab someone you consider family and join us for great wine in a beautiful setting.
Business Hours
Wednesday - Saturday 2:00 PM - 8:00 PM and 9 PM in Summer
Sunday 2PM - 7PM
General Dining
Credit Cards: YES
Meals Served: Pizza
Dining Classification: Winery
Cost:$$
Menu Style: Casual, Lunch and Dinner
Alcohol Served: Wine and Beer
Separate Bar Area: YES
Meeting Room Capacity: 20+
Entertainment: Live Music (Outdoor Concerts) throughout Spring, Summer and Autumn
Diet Specific: Gluten Free Pizza Crust, Cauliflower Pizza Crust and Chicken Pizza Crust
Exterior
Parking: Large Parking Lot
Visible Signage: From Road, Sign on Building & From Highway
Handicapped Accessible: YES
Interior
Seating: Tables and Outdoor Seating
Gift Shop / Products for Sale: Wine
Recommended Dishes
For wine list and online ordering visit. www.belgianhorse.com/
Catawba- Reminiscent of grapes picked straight from the vine, sweet on the front and finishes with a subtle tartness.
Cousin Elaine Raspberry - Perfect balance of tart and sweet, like taking a bite of a fresh raspberry.
Rufus Red is named after Rufus (Rutherford) Harter, the second generation to farm the land where the winery now sits. (Approx. 1890- 1950)
Myrtle was the matriarch of the "Phipps" side of the family and was as sweet as this wine. She ran her own daycare in Middletown with 30+ children sometimes at once. Along with that, she raised an amazing family of 6 kids while being a single mother and eventually having dozens of grandkids and now great grandchildren. She was a true leader and the example we all look to today. Myrtle's Mango is 100% mango fruit with a big tropical nose; like a refreshing white wine with a prominent mango aftertaste. ?? WARNING?? This wine may make you as sassy as our "mamaw" pictured on the label. We are not responsible! ????
BBQ bacon chicken pizza available now! Sweet/spicy bbq sauce base, shredded 3 cheese blend with grilled chicken, perfectly cooked bacon, red onions, and topped with more delicious BBQ sauce!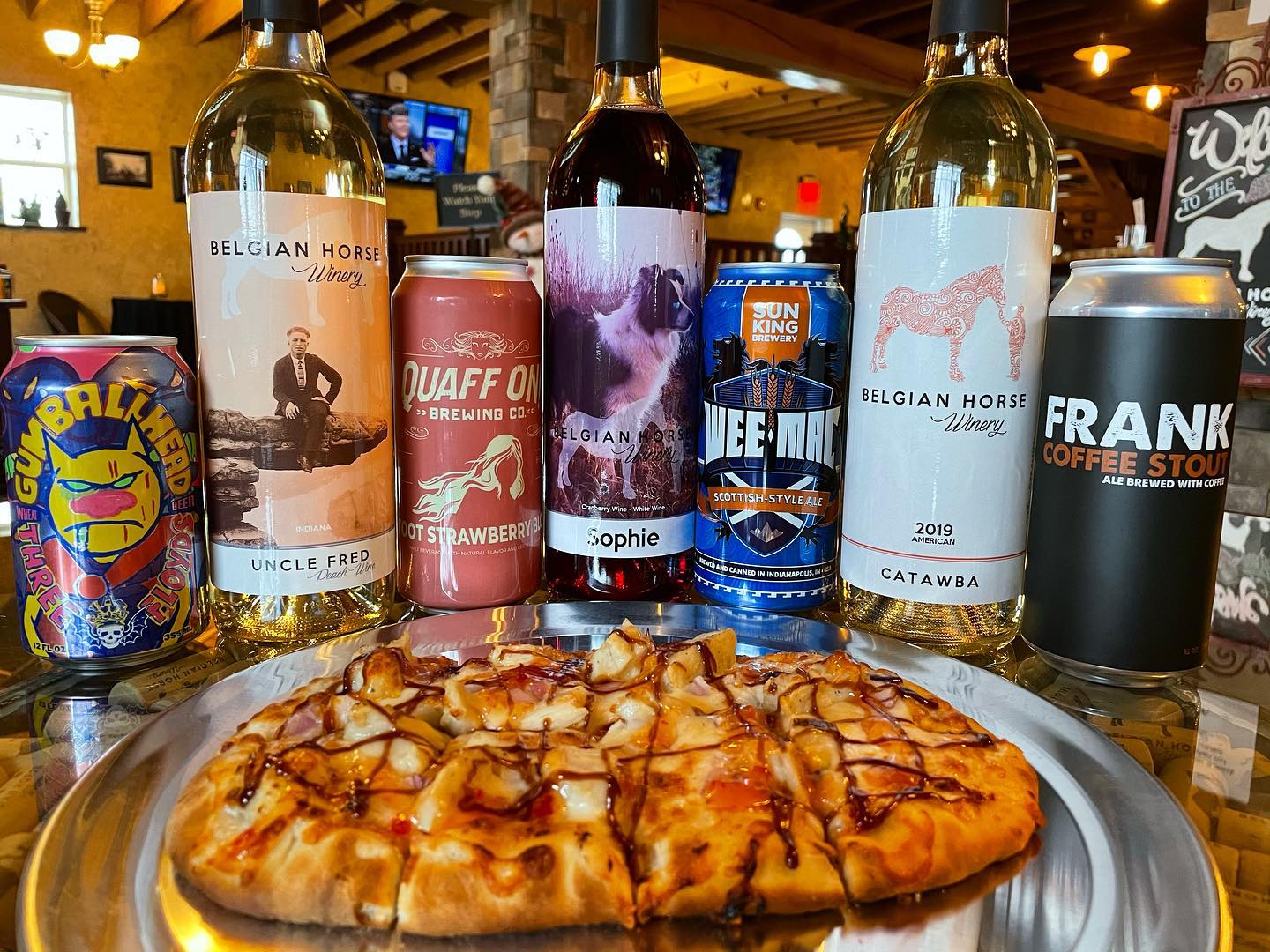 Restaurant Information:
Phone: (765) 779-3002
Address:
7200 West County Rd 625
Middletown, IN 47356
---
The Restaurant is part of the following trails:
---